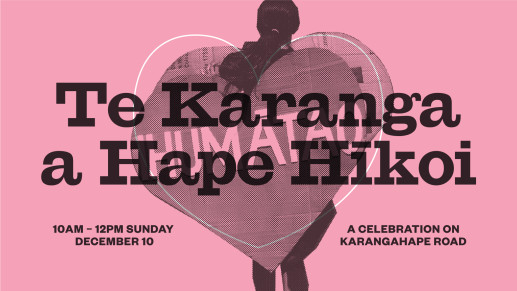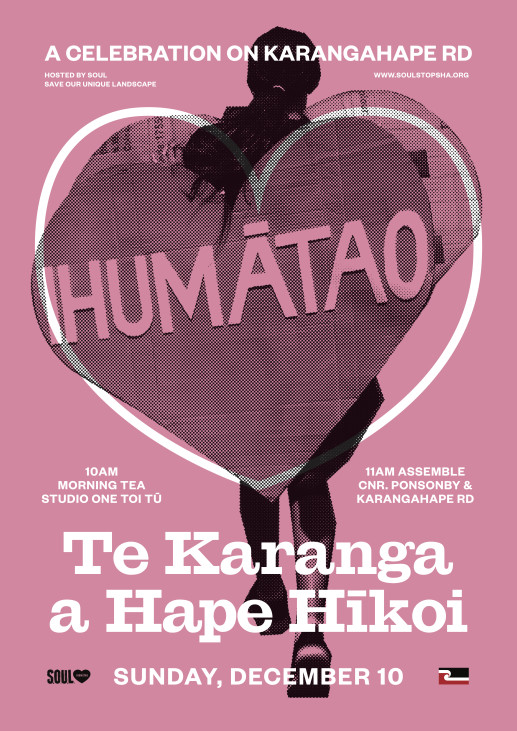 Poster design by Son La of DDMMYY and with help from Bridget Riggir-Cuddy of Artspace.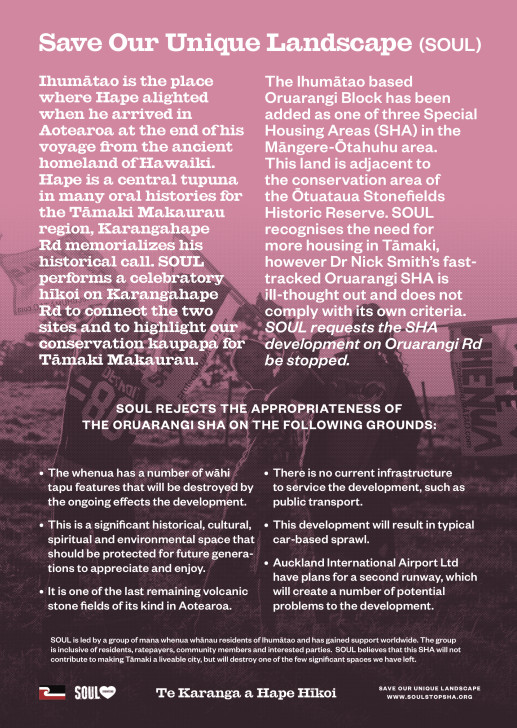 Story poster, design by Son La of DDMMYY and with help from Bridget Riggir-Cuddy of Artspace.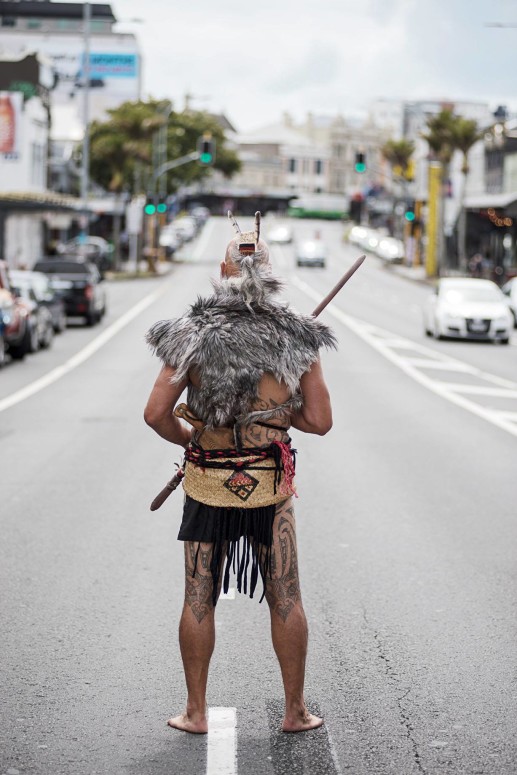 Photographic documentation by Raymond Sagapolutele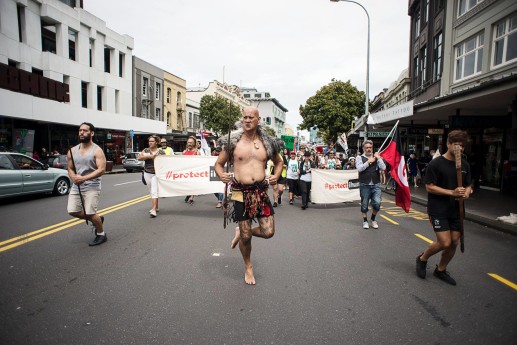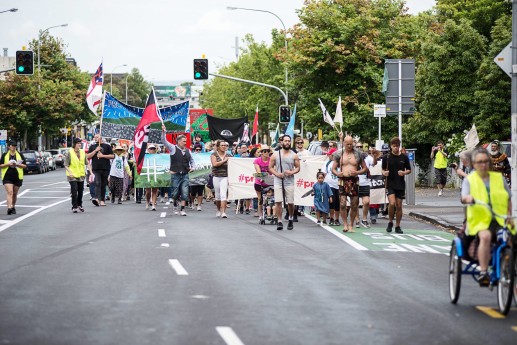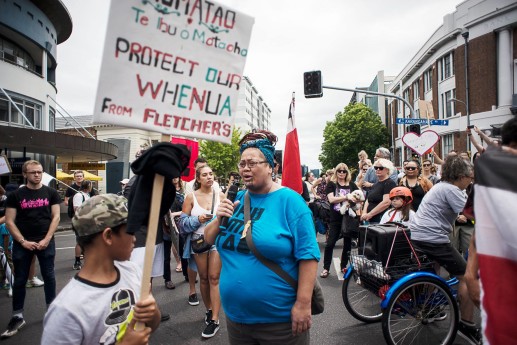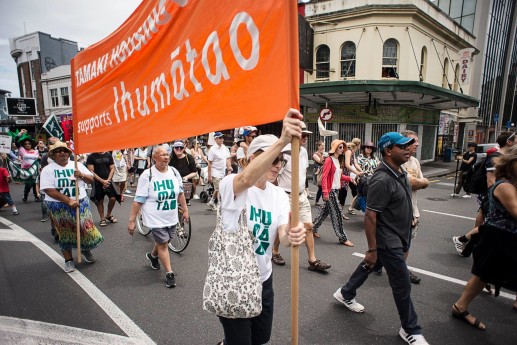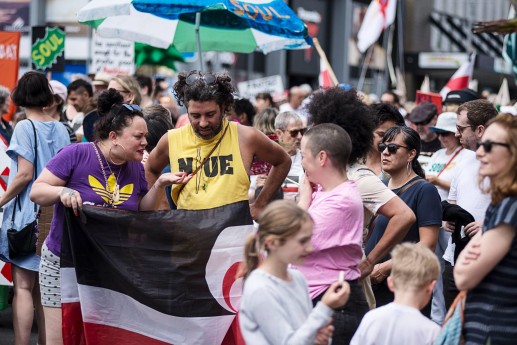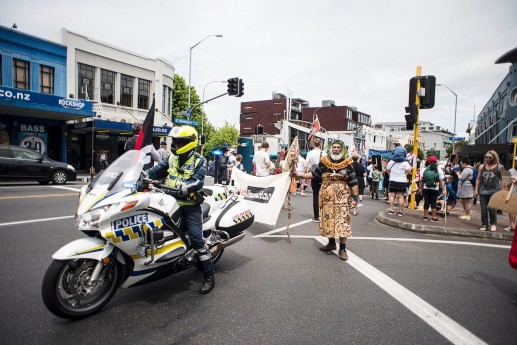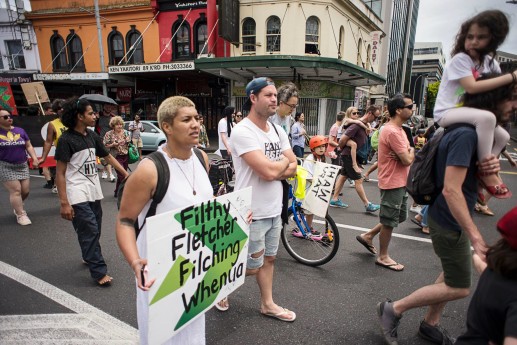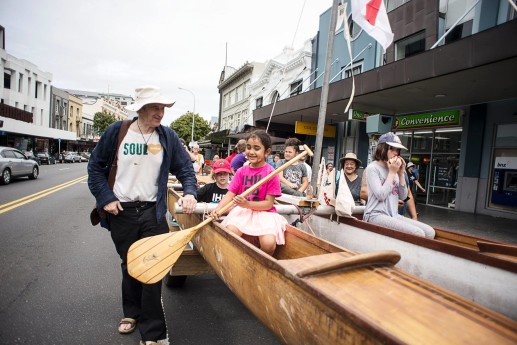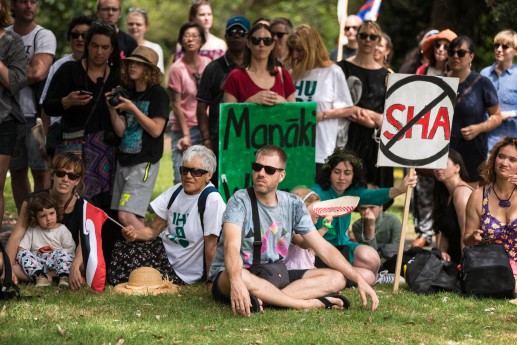 Te Karanga a Hape Hīkoi
Te Karanga a Hape Hīkoi was a protest event made in collaboration with Te Wai-ō-Hua, Ngāti Whātua Ōrākei, Save Our Unique Landscape (SOUL) and extended creative whānau of Tāmaki Makaurau.
Kaupapa:
• Symbolically connect Ihumātao with Karangahape Rd, through the shared story of Hape.
• Advocate for the protection and future management of the Ihumātao whenua and awa by whānau.
• Promote whānau visibility and connection through a celebratory creative kaupapa.
• Connect local maunga advocacy with the UN's International Mountain Day.
Ihumātao is the place where the tupuna Hape alighted when he arrived in Aotearoa at the end of his voyage from the ancient homeland of Hawaiki. Hape is a central character in many oral histories for the Tāmaki Makaurau region, for example Karangahape Road memorializes his historical call. SOUL performed the celebratory hīkoi on Karangahape Road so as to connect the two sites and to highlight our conservation kaupapa for a wider Tāmaki Makaurau audience.
SOUL is a community-driven campaign group that is inclusive of diverse tauiwi (non-Māori), Ihumātao residents and is lead by mana whenua Te Wai-ō-Hua whānau members (Māori with traditional custodial authority for Ihumātao). The SOUL whānau is attempting to stop the development of a fast-tracked Special Housing Area (SHA62) on the whenua of Ihumātao, because we are certain that the housing development will destroy highly significant features in the area, including urupā (cemetery), puna (springs) and tūpuna maunga (ancestral mountain).
Links for SOUL:
Links for Te Karanga a Hape Hīkoi:
Turn off text